Ten more days and it will be the time to bid adieu to September, 2016. Time flies and every year, the days in the calendar seem to pass more swiftly than before. Welcoming the tenth month of the year, we never realized how quickly these 9 months went by. With nothing in our hands, all we should do is keep on rejoicing the way it's going and celebrate the fact that October is the month of innumerous festivals and happiness.
Being a bong myself, I know how eagerly we along with a lot of others wait for this time of the year. October is the month, when Durga Puja is widely celebrated throughout the state. Taking in a lot of troubles and hardships, we  never fail to show our unmatched devotion towards Maa Durga. From constructing attractive pandals to bringing home the beautiful idols of Maa Durga, we try fulfilling every possible requirement with utmost zeal. These five days mark one of the biggest events of West Bengal, and people all over the state celebrate the deity's presence with dance, music, food, and community gatherings.
Since good and tasty food has always been mandatory during the festivals, why not we try to make it better, tastier and healthier this year? Yes, health is important and people often negotiate it with unhealthy eating habits. Looking into the concern, Kaloree1 offers you a brand new recipe to prepare tasty as well as healthy "Makhane ki Kheer", at home.
Ingredients required to make 5 serves of "Makhane ki Kheer":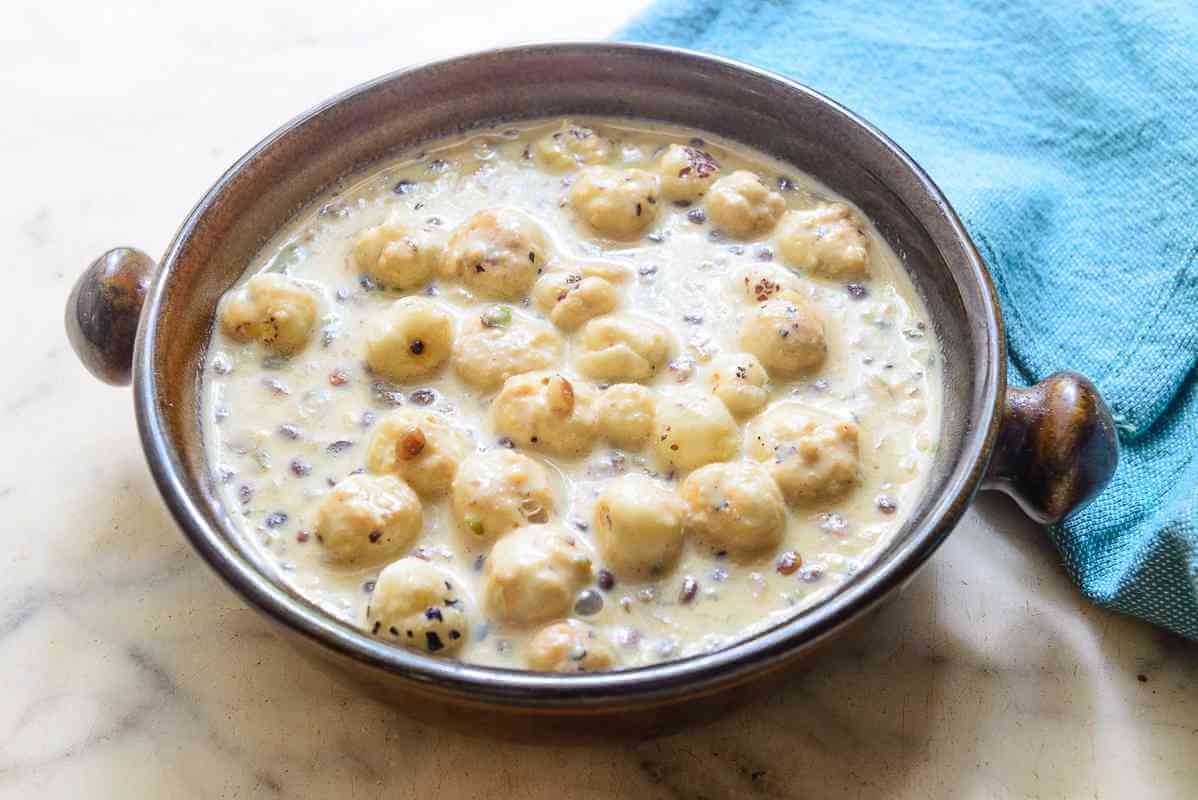 A cup of lotus seeds (Makhanas)
1 teaspoon of ghee
4 cups of low-fat milk
2 pellets of Kaloree1 and few saffron (kesar) strands
¼ teaspoon of nutmeg (jaiphal) powder
1 teaspoon of pistachio silvers
Method to prepare:
Heat the ghee in a mild flame on a non-stick pan, then add the lotus seed in the same pan with the same flame intensity and leave it for 2 to 3 minutes.
Remove the prepared item from the pan and then grind the lotus seeds in a mixer to a coarser mixture.
Now boil the milk in another non-stick pan and

then,

after a while add the pellets of Kaloree1 along with the lotus seed mixture to this. After adding all the three in a pan, mix well and cook it on a mild flame for 3 to 4 minutes, while stirring occasionally.
Add the saffron and nutmeg powder and cook it for another 3 to 4 minutes. Keep stirring this from time to time.
Your meal is prepared and ready to serve

it

Garnish it with pistachio silver.
Health is the main and a very important concern of the society. Celebrating this grand festival by putting our health at stake is never a wise decision. A healthy life has always opened doors to more happiness and infinite rejoices. Therefore, the Kaloree1 family insists you to celebrate a healthier Durga Puja and keep on adding the joy in your lives.